Dirty Feet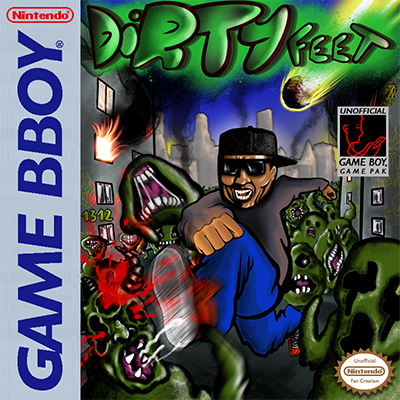 A strange meteorite landed on earth and opened several pan-dimensional portals. You'll need to dig your way up surrounded by many ennemies.
Demons, mutants, zombies and aliens await you in this brand new world of adventures.

Travel through the city, jump into the underground and more…
| | | |
| --- | --- | --- |
| Controls | Keyboard qwerty | Game Boy |
| Movement | Arrows/WASD | D-pad |
| Jump | Z | B |
| Shoot | X | A |
| Pause | ENTER | START |

Enemies can't kill you, but if they hit you, they'll teleport you backwards in the level, or make you temporarily disappear to block your progress.
Crush your enemies, shoot them.
Be ready to make your feet dirty !
The game is difficult in the spirit of the games of the Game Boy Era.
Speedrun is highly recommended.
If you experience ANY difficulty, you'll need to take (press) a pause ;)
Art & Game Design by I_dig_holes
Story by I_dig_holes
Music by I_dig_holes
Made with GBStudio 2.0.0-Beta4


Any feedback is appreciated.
Enjoy the game !
°°°°°°°°°°°°°°°°°°°°°°°°°°°°°°°°°°°°°°°°°°°°°°°°°°°°°°°°°°

Une étrange météorite atterrit sur terre et ouvre différents portails pan-dimensionnels. Vous allez devoir vous frayer un chemin à travers différents ennemis.

Démons, mutants, zombies et extraterrestres vous attendent dans ce nouveau monde d'aventures.

Voyagez à travers la ville, sautez dans les souterrains et plus encore…
| | | |
| --- | --- | --- |
| Commandes | Clavier azerty | Game Boy |
| Mouvement | Flèches | D-pad |
| Sauter | X | B |
| Tirer | Z | A |
| Pause | ENTER | START |

Les ennemis ne peuvent pas vous tuer, mais si ils vous touchent, ils vont vous téléporter en arrière dans le niveau, ou vous faire disparaître provisoirement afin de bloquer votre progression.
Ecrasez vos ennemis, flinguez-les.
Préparez vous à vous salir les pieds !
Le jeu est difficile pour coller avec l'esprit des jeux Game Boy de l'époque.

Speedrunez-le si vous pouvez.

Dernier conseil si vous galérez avec quoi que ce soit prenez (pressez) une pause ;)


Art & Game Design par I_dig_holes
Histoire par I_dig_holes
Musique par I_dig_holes
Créé avec GBStudio 2.0.0-Beta4
N'hésitez pas à lâcher des commentaires.
Enjaillez-vous avec le jeu.
Download
Click download now to get access to the following files:
Comments
Log in with itch.io to leave a comment.
Why are the inscriptions in russian here? The author seems to be French. Just curious.